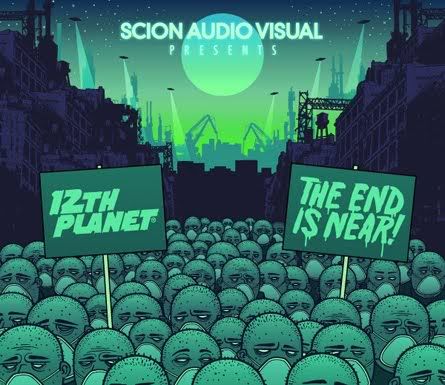 12th Planet is an LA-based dubstep producer and dj with a scratchy voice. He hangs out and collaborates with Skrillex a lot and the two songs he is best known for are probably this one and this one. A few months back he dropped a new EP through Scion A/V for free. Every song is excellent and the cover art is really cool too. You can get it from this cool website here. Check it out.
This first track definitely has some Los Angeles in the chord progressions and keyboard sounds in the intro. Then the powerful snares slap you the the face and there's even some heavy guitar to give it some urgency. The percussion is all over the place. You can tell from the scattered kicks, snares and high hats that 12th is really coming into his own as a producer.
Burst features Kill the Noise and the king of emo-step Skrillex, so it comes as no surprise that it begins on a melancholy note before jumping into experimental dubstep sci-fi swag madness.
This one starts off slow, some more LA keyboard style in the intro, and then "Never know what hit him." Boom. Ghost is in-your face but it's also kind of playful with how different elements start communicating with each other with the melody and threatening bass taking turns to assert themselves.
Ratchet Strap is pretty cool too.
Jail Break is so awesome because of what this guy does with high hats. The song itself maintains the dark melodic tone of the rest of the EP, but the buildup to the drop is more percussion-focused than any dubstep song I have ever heard. The assault of snares and high hats is inescapable, until inevitably 12th hits us with a barrage of percussion that is so compressed that it sounds like a big fart. Probably the coolest percussion effect of all times.