3ball mty coming to austin, san antonio
The picture above captures the essence of the tribal (aka 3ball) movement in Mexico: a mix of traditional cumbia and Caribbean influences with futuristic electro house beats. Although its deepest roots are in Monterrey and Mexico City, the genre has been gaining worldwide attention the past two years, thanks largely to Toy Selectah, XLR8R and Mad Decent exposure. Like many people, I was first exposed to tribal culture in a VICE video about las botas picudas (or Mexican pointy boots) pictured here: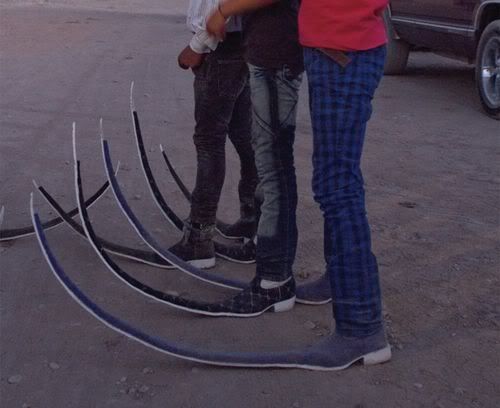 The musical theme in that video is a song by the best known producer and dj in the tribal movement, DJ Erick Rincon. Here are a couple of my favorite tracks by him along with a Discobelle mix of his tribal influences. Rincon, 18, linked up with a couple other tribal djs, DJ Otto and Sheeqo Beat, who are 19 and 20 respectively. Collectively the trio make up 3ball MTY, a formidable super group of young Mexican djs and producers. They recently released the first ever tribal music video for Inténtalo (Me Prende) and already garnered over 1.5 million YouTube hits. 3ball MTY are on tour now and stop through in San Antonio and Austin October 7th and 8th. No location or ticket info yet, just this twitter announcement. A bailar!
7 Responses to "3ball mty coming to austin, san antonio"
Where can i get me a pair of those boots?

jaja maybe MEXICO somewere

Where can i get those boots ?

[...] check out some cool remixes of Go by Erick Rincon and Peace [...]

i luv INTENTALO so fuckin muck…its the bomb!!!!!! luv las botas picudas too want them in pink…….eeeeeeeppp!!!!!!